Why do most MBA grads look for jobs with The Big Three consulting firms?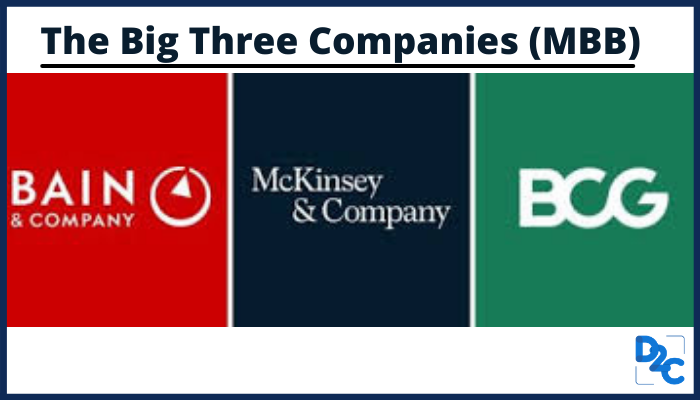 "What do you want to be?" - We have all heard this question while growing up. From the naive idea of becoming a doctor, engineer, superhero or astronaut, to the determination of getting a high-paying job at a reputed firm by the time our MBA rolls around, we move on to more realistic goals! But before you jump into just any job, let's quickly cover why among a mine of high-paying and coveted jobs, Indian MBA grads look for job offers in big consulting firms like McKinsey, Boston Consulting Group (BCG), and Bain & Company.
When it comes to a high-paying, exciting and fancy job, Consulting holds a lion's share of the market. Talking about management consulting, it has been majorly dominated by "The Big Three" companies or the MBB in terms of their worldwide annual revenues. The Big Three and many other companies that offer jobs in the management consulting domain visit the most recognized and competitive B-Schools of India during the placement season and hire thousands of MBA graduates.
If you too aspire to join a consulting company, then we suggest you enroll in this course prepared by the Consulting Club of IIM Ahmedabad.
Which companies come under The Big Three?
The Big Three or MBB constitutes the world's three largest management consulting firms by revenue. The three companies are McKinsey, Boston Consulting Group and Bain & Company. McKinsey is the biggest among them with annual revenue of over USD 10 billion in 2018. It has 127 offices around the world and 27,000 employees, out of which 9,000 are consultants.
Boston Consulting Group (BCG) is the second biggest with annual revenue of USD 7.5 billion in 2018. It has 90 offices worldwide with 18,500 employees, including 7,000 consultants. Bain is the smallest of them with annual revenue of USD 4.5 billion in 2019. It has around 10,500 employees, including 4,000 consultants.
Hiring statistics of MBA grads by The Big Three in India
The below-mentioned points clearly indicate the extensive hiring of MBA grads in the year 2019 by The Big Three and other reputed management consulting firms in India:
The Indian School of Business (ISB) which was placed the highest among the Indian B-Schools in

The Financial Times Global MBA rankings 2021

witnessed the participation of major global consulting firms including McKinsey & Company, KPMG, Deloitte which accounted for

over 22%

of the total job offers.

XLRI Jamshedpur which has been among the top 10 management institutes in India in the NIRF ranking attracted maximum job offers from the consulting domain, i.e.

26%

of the total offers made.

IIM Bangalore which stood at the 35th position globally in The Financial Times Global MBA rankings 2021 had a maximum of

147 job offers

rolled out by the consulting firms.
The same scenario of hiring by consulting firms is seen in many other B-Schools in India. If we consider the recent data of Cluster 1 of IIM Ahmedabad final placements 2021, which was ranked the number 1 B-School in India in 2020 by NIRF, Business World, Business Today, and Outlook it becomes evident that MBBs and other consulting firms have been major recruiters.
Boston Consulting Group (BCG) made the highest number of job offers at IIM Ahmedabad Cluster 1 final placements for the PGP class of 2021 followed by McKinsey. The two companies made 32 and 30 job offers respectively making them the key recruiters in Cluster 1. Many consulting firms offered management consulting roles across geographies including West Asia & Middle East in large numbers
In 2020, 153 firms had participated with 182 different roles in the placement process of IIM Ahmedabad. McKinsey made the most offers (including Pre-Placement Offers) at the end of the final placement process with 27 offers, followed by Boston Consulting Group with 23 offers.
Why are MBA grads in India attracted to work in The Big Three?
Though there are a number of factors due to which jobs in the management consulting domain remain the most sought-after but the prime factor is the astounding salaries offered by The Big Three and other consulting companies to the MBA graduates of reputed B-Schools in India. These graduates definitely expect to get the maximum possible remuneration for their role as management consultants and these companies provide them a lot of it along with bonuses and other perks. The table below indicates the hefty salaries offered by the management consulting companies in India:
| | | |
| --- | --- | --- |
| Company Name | Median Base Salary | Median Salary+Other components |
| McKinsey & Company | INR 25.20 LPA | 31.80 |
| The Boston Consulting Group | INR 30.00 LPA | 38.00 |
| Bain & Company | INR 29.10 LPA | 33.90 |
| A.T. Kearney | INR 27.70 LPA | 31.40 |
| Accenture | INR 18.90 LPA | 21.30 |
| Deloitte India | INR 17.00 LPA | 18.70 |
| PwC India | INR 11.50 LPA | 12.50 |
| EY | INR 11.00 LPA | 12.00 |
The average Management consultant salary in India is INR 1,144,591 per annum (approx 11.5 L) as per the data of 2021.
Role of location in salaries of Management Consultants
The location also determines the salary scale of management consultants in India. Management consultants in Delhi earn about 21.0% more than the national average, as being the national capital and a metro city it is the hub of most commercial meetings. The average annual salaries are also pretty high in Gurgaon (14.5% more) and Bangalore (9.8% more). Pune (24.1% less) and Chennai (12.6% less) record the lowest salary for management consultants.
Growth of salary in consulting with respect to a job position
The national average salary for a consultant is INR 9,50,000 in India. The average salary of an entry-level consultant in India is INR 4,13,000 while that of a senior consultant is INR 12,88,000.
| | |
| --- | --- |
| Position | Average salary (2021) |
| Entry-level consultant | INR 4,13,000 |
| Business analyst | INR 6,77,500 |
| Associate consultant | INR 6,50,000 |
| Business consultant | INR 12,72,000 |
| Senior consultant | INR 12,88,000 |
How to get an internship and offer at one of The Big Three companies?
The Big Three companies offer pretty high salaries so getting an internship and offer from them is difficult as well as quite competitive because nearly everyone wants them. Below are some important points that interested candidates can keep in mind if they wish to get a job offer from one of The Big Three companies:
In the management consulting industry

the conversion rate of internships into full-time positions is about 38%

. So candidates should try to grab an internship offer at these firms as they will get experience regarding the work culture of the company and subsequently the chances of getting a PPO (Pre-Placement Offer) will be high.

The resume plays a very important role

in getting shortlisted for further rounds of the selection process at these companies. Candidates should always restrict their resume to 1 page and highlight the keywords in it. The resume should reflect the academics, extracurricular activities participation, initiatives taken, leadership positions held, and achievements of the candidate.

Networking is the secret potion if a candidate is trying to switch from another company to any of The Big Three consulting firms or are not from a tier I B-School of the country as the network inside the MBB firm will push their application for them.

Another aspect to look at is the Interview rounds. In the case study section, candidates will have to analyze a real business problem and develop and discuss solutions to the challenge it poses. Logical questions may also be asked to the candidates. The experience portion of the interview is a more familiar format where interviewers try to get a better idea of the candidate's background and personal experience.
Check our latest interesting articles: